Risking little Daniel's life -- to save him
Sick Kids doctors design solution to deadly illness
His parent's determination saved his life
Daniel Raddatz and his parents.--BERNARD WEIL, Toronto Star
By TANYA HO -- Toronto Star
Tuesday, April 12, 1999
Doctors at the Hospital for Sick Children have performed a world's-first surgery, risking the life of a 2-year-old boy in order to save him.
Daniel Raddatz of Calgary was diagnosed with Budd-Chiari syndrome when he was just 8 months old. The rare condition -- there have only been three known cases in North America in the past 20 years -- prevents blood from flowing from the liver to the heart.
While the condition was diagnosed early, it took more than a year for the surgeons at Sick Kids hospital to figure out how to treat it. The Raddatz family helped doctors by turning to the Internet and searching Pubmed, an online search tool used to access synopses of North American medical cases. They kept in touch with Dr. Peter Chait, an interventional radiologist, alerting him to similiar cases.
Daniel's groundbreaking 51/2-hour surgery was performed Friday. On Saturday, he was sitting up and playing with a toy car. Doctors expect he'll be released this week.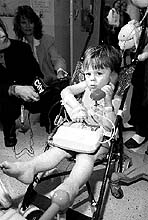 HELLO? ... Daniel Raddatz mugs for the cameras yesterday at Sick Children's Hospital, three days after his operation. -- Stan Behal, SUN
Risking Daniel's life to save him was not an easy decision, but a necessary one, his parents said. "We really had no choice," said Maria Raddatz,32. "It was an absolute miracle ... We now have a healthy child with a full life expectancy. (On Friday), we didn't have that."
The syndrome explained ...
Normally, blood draining from the lower portion of the body travels through the liver to the heart through the inferior vena cava. Those diagnosed with the syndrome have a blocked or malformed vessel, but blood can still flow to the heart through hepatic veins.
Daniel's inferior vena cava was two centimetres shorter than it should have been and his hepatic veins were draining into collateral vessels, which is abnormal. His body had developed the collateral vessels as an alternative way to get blood to his heart, leading to his abnormally enlarged liver.
Immediately following the surgery, Daniel's collateral veins collapsed, and his enlarged liver and heart decreased in size.
Had the operation not been done, Daniel would have suffered from cirrhosis of the liver by the time he was 4 and fatal liver failure, Chait said.
"In the opinion of several people, even a liver transplant might not have been an option for him, because he had so many collateral vessels, that it could have been very difficult to control the bleeding," said Dr. David Nykanen, an interventional cardiologist who also operated on Daniel.
The operation ...
During the surgery, doctors inserted two catheters, one into his jugular vein and one into his femoral vein. A needle was inserted into the femoral catheter and it was used to burrow through the liver, through the malformed vessel and into the right atrium, one of the chambers in Daniel's heart. Doctors used ultrasound and x-ray images to guide the needle.
The needle was replaced with a wire, which was caught and pulled through the jugular catheter to keep the channel open. A stent -- a four-centimetre long expandable metal tube -- was inserted over a balloon catheter and positioned between the vessel and Daniel's heart.
The balloon was inflated to expand the diameter of the stent to 15 millimetres and create the missing part of Daniel's vena cava. The balloon was removed and dye injected to confirm the passage was clear.
Because the surgery had never been done, a heart team was standing by in the case open heart surgery was needed.
The family's Calgary hematologist was discussing Daniel's case with Dr. Maureen Andrew at Sick Kids, when Maria Raddatz decided to call her. It was Andrew who referred the Calgary couple to Chait, who diagnosed Daniel with the syndrome after performing an angiogram.
From last May to October, the family came periodically to Toronto to consult with doctors drawing up surgery plans. Chait and Nykanen designed the operation, spending months consulting with doctors.
Daniel will need future checkups to make sure his inferior vena cava stays open and that blood clots don't form in the stent.
---
Links to Help You Search For More Info...
---